Really easy to setup and take down
Benefit: This means it will be easy for you to setup in your venue… No complicated instructions, setup easily with 1 or 2 people
Manageable size for ease of transport
Benefit: This means you just need a small to medium sized car to take the props to your party venue
Impressive visual presence
Benefit: All our props look amazing and will transform your room!
We design using iconic themed images and link all our themed props together so they will tie the whole room together.
Hire price must be affordable
Benefit: This means you can get top quality themed party props to decorate your venue at a fraction of the cost of main stream 'Prop Hire' where the delivery and collection charges are in the £100's!
Our huge photo backdrops are really popular.
Displaying iconic themed images they fill any venue with atmosphere and get people in the mood for a party!
Most people use the backdrops as photo backdrops or DIY photobooths.
3m wide and adjustable 2m or 2.5m tall they are easily erected by 2 people, choose your party themeand order yours today!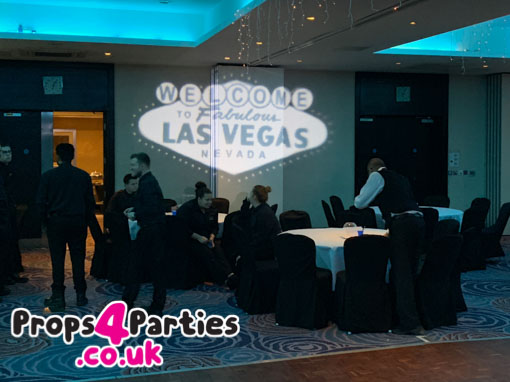 Our newest prop type… The gobo projector!
It can project an image upto 5m x 5m and completely wows your party room… Such an effective prop!
Loads of designs to choose from with iconic images of your chosen theme… Or why not personalise it with your Logo / photo / message…
You can upgrade to include our outdoor kit and illuminate the outside of your whole venue!
Click link below for photos showing the possibilities of this versatile prop…
A very simple party prop but so effective!
We have some stunning designs to choose from that are sure to enhance the themed atmosphere at your event.
Our banners are wider than the standard rollup banners…
85cm wide x 200cm tall, they will make a statement in your room.
Easy setup, cheap party props to hire, many fabulous designs to choose from…. No brainer!!
Choose your party theme and book your banners today.
First impressions count!
Every special event needs an entrance piece to get your guests into the mood for a party.
We have a selection of entrance carpets to welcome your guests, from the standard red carpet to our new sparkly gold, silver, purple or blue glitter carpets.
Holding an Alice in Wonderland or Beach party then why not welcome your guests with a grass carpet… Cool!